Pressure regulating valves
Pressure regulating valves are used to maintain and control system pressure, divert unused fluid without interrupting system operation, and protect the pump from exceeding the set system pressure.

CAT PUMPS offers a wide range of pressure control valves, including the 7000 Series regulators. Available exclusively from CAT PUMPS, the 7000 Series pressure control valves feature advanced regulator technology not available anywhere else. This development provides smoother, longer-lasting, more precise and safer control operation.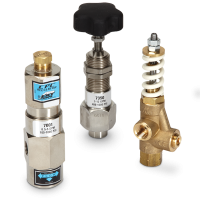 Model
Q max.
p min.
p max.
In/Out
Bypass

In/Out:

G 3/8" IG / G 3/8" IG

In/Out:

G 3/8" IG / G 3/8" IG

In/Out:

1" BSP IG / 1" BSP IG
Model
Q min.
Q max.
p min.
p max.
In/Out
Bypass

In/Out:

3/8" NPT(F) / 3/8" NPT(F)

In/Out:

3/8" NPT(F) / 3/8" NPT(F)

In/Out:

3/8" NPT(F) / 3/8" NPT(F)

In/Out:

1/2" NPT(F) / 1/2" NPT(F)

In/Out:

1/2" NPT(F) / 1/2" NPT(F)

In/Out:

1/2" NPT(F) / 1/2" NPT(F)

In/Out:

1/2" NPT(F) / 1/2" NPT(F)

In/Out:

3/4" NPT(F) / 3/4" NPT(F)

In/Out:

3/4" NPT(F) / 3/4" NPT(F)

In/Out:

3/4" NPT(F) / 3/4" NPT(F)

In/Out:

3/4" NPT(F) / 3/4" NPT(F)

In/Out:

3/4" NPT(F) / 3/4" NPT(F)

In/Out:

3/4" NPT(F) / 3/4" NPT(F)

In/Out:

3/4" NPT(F) / 3/4" NPT(F)
Model
Q min.
Q max.
p min.
p max.
In/Out
Bypass

In/Out:

3/8" NPT(F) / 3/8" NPT(F)

In/Out:

3/8" NPT(F) / 3/8" NPT(F)

In/Out:

3/8" NPT(F) / 3/8" NPT(F)

In/Out:

1/2" NPT(F) / 1/2" NPT(F)

In/Out:

1/2" NPT(F) / 1/2" NPT(F)

In/Out:

1/2" NPT(F) / 1/2" NPT(F)

In/Out:

1/2" NPT(F) / 1/2" NPT(F)

In/Out:

1/4" NPT(F) / 1/4" NPT(F)

In/Out:

1/4" NPT(F) /3/8" NPT(F)

In/Out:

1/2" NPT(F) /3/4" NPT(F)

In/Out:

3/4" NPT(F) / 3/4" NPT(F)

In/Out:

3/4" NPT(F) / 3/4" NPT(F)

In/Out:

3/4" NPT(F) / 3/4" NPT(F)

In/Out:

3/4" NPT(F) / 3/4" NPT(F)

In/Out:

3/4" NPT(F) / 3/4" NPT(F)

In/Out:

3/4" NPT(F) / 3/4" NPT(F)

In/Out:

3/4" NPT(F) / 3/4" NPT(F)

In/Out:

1" NPT(F) / 1 1/4" NPT(F)

In/Out:

1" NPT(F) / 1 1/4" NPT(F)

In/Out:

1 1/4" NPT(F) / 1 1/4" NPT(F)

In/Out:

1 1/4" NPT(F) / 1 1/4" NPT(F)

In/Out:

1 1/4" NPT(F) / 2 1/2" NPT(F)