Relief Valves
Relief valves can be used as primary pressure control devices or secondary (safety) pressure relief devices. Many systems also use two relief valves, one set as the primary pressure control and the other set as a secondary relief.
When used as a primary pressure control device, the relief valve sets and maintains consistent system pressure. Excess flow is bypassed back to the pump inlet, tank, or drain when the system reaches the set pressure point.
When configured as a secondary pressure control device, the relief valve provides pressure relief if the primary pressure control valve malfunctions. The secondary relief valve will open to relieve the system pressure, protecting the pump and system from damage caused by over-pressurization. A secondary relief valve can save costly pump and system damage, and more importantly, it's an added safety feature to protect those working around the equipment.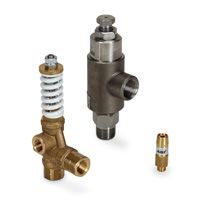 | Model | Q min. | Q max. | p min. | p max. | In/Out | Bypass |
| --- | --- | --- | --- | --- | --- | --- |
| | | | | | | |
| | | | | | | |
| | | | | | | |
| | | | | | | |
| | | | | | | |
| | | | | | | |
| | | | | | | |
| | | | | | | |
| | | | | | | |
| Model | Q min. | Q max. | p min. | p max. | In/Out | Bypass |
| --- | --- | --- | --- | --- | --- | --- |
| | | | | | | |
| | | | | | | |
| | | | | | | |
| | | | | | | |
| | | | | | | |